Upcoming Events
---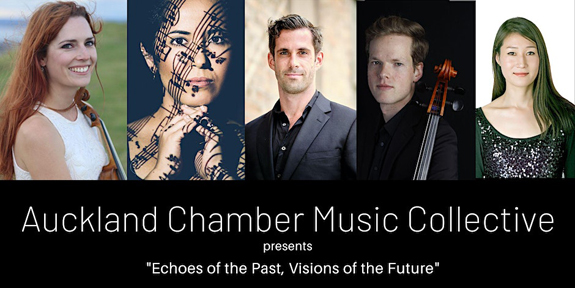 Thursday 13 April 2023, 7.30pm, Saint Heliers Church & Community Centre, 100 St Heliers Bay Road, Auckland 1071
---
Past Events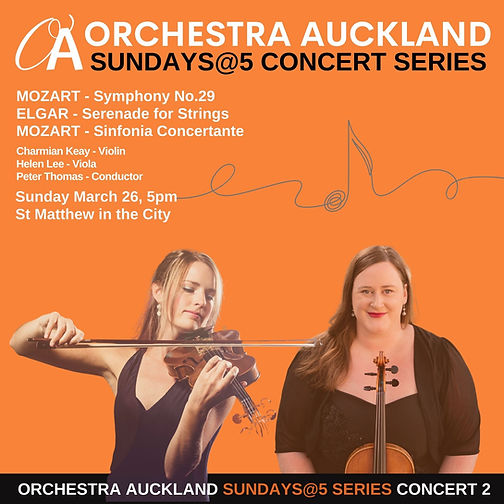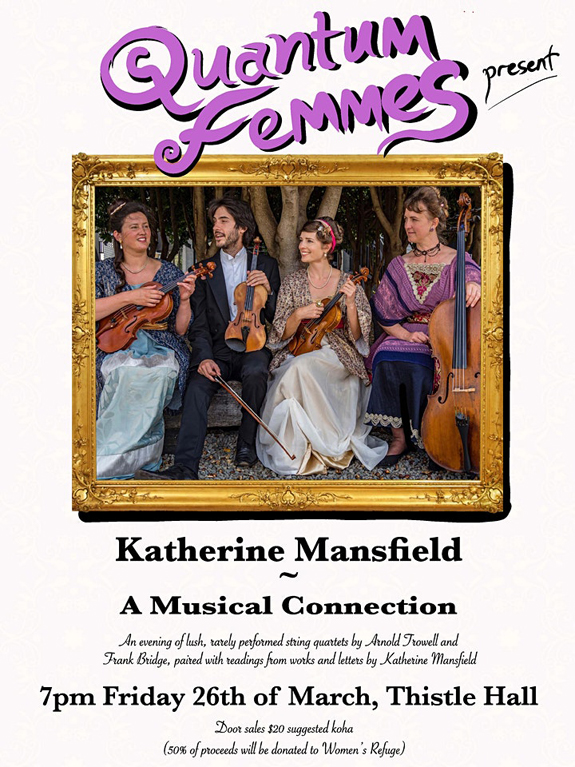 ---
Saturday 27th & Sunday 28th February 2021. Sound Waves, Hikitia floating steam crane, Wellington as part of the Wellington Fringe Festival, produced by Chamber Music New Zealand.
---
Concerts with the Jade String Quartet, Auckland in 2020 as replacement second violinist.
---
6 September, 2020. Quantum Femmes at Katherine Mansfield House, Wellington. Beethoven's String Trio Op. 9, no. 1 in G Major.
---
The Basement, to April 18, 2015, Blackbird Ensemble's 'Dreams'
---
Sunday 5th October 2014, 5 pm. Concert with Korutet at Église Notre Dame d'Espérance, 47 rue de la Roquette, Paris 11ème.
Sunday 14th Septembert 2014, 5pm. Concert with Korutet at Leigh Sawmill Café, Auckland. Programme; Keay, Ravel, Borodin.
Thursday 11th Septembert 2014, 7pm. Concert with Korutet at Murray's Bay Intermediate, Auckland. Programme; Nigel Keay - String Quartet No.2, Martin Loridan - Introduction & Allegro, Ravel, Borodin.
Saturday 9th August 2014, 5pm. Concert with Korutet at Level 1, 321 Karangahape Rd, Newton, Auckland. Programme; Keay, Ravel, Borodin. Programme PDF
---
Sunday, 15 December 2013, 7pm. Performance with Intrepid Music Project at Kerr Street Artspace, Devonport, Auckland. Programme: Nigel Keay: Diversions for Quintet (2003), William Sydeman: Duo for Clarinet & Double Bass (1958), Prokofiev: Quintet in G minor, Op. 39 (1924). Charmian Keay - Violin, Rachel Grimwood - Viola, Gemma Price - Oboe, Finn Schofield - Clarinet, Eric Scholes - Double Bass, Peter Scholes - Clarinet, Alex Taylor - Conductor.
---
Friday 30th August, 2013. String Quartet No.2 from the CD Music for Small Groups was broadcast on France Musique (Radio France) in the programme "Plage" presented by Bruno Letort.
---
13th April 2012 performance at 1pm, Blackheath Halls, Cornwallis String Quartet performance, repertoire including Beethoven Op. 18 no. 3 and Schubert String Quartet no. 13 'Rosamunde'.
---
5th April 2012 performance at Blackheath Halls, 7.30pm with Trinity String Ensemble with music by Prokofiev, Part (featuring soloist Matthew Trusler), Rachmaninov and Tchaikovsky.
---
Performed as co-leader of orchestra in Heiner Goebbels' Surrogate Cities for the Cultural Olympiad with Trinity Laban Symphony Orchestra, Saturday 3 March 2012 at 6pm, Royal Festival Hall, Southbank Centre (with musicians from National Youth Orchestra of Great Britain and London Philharmonic Orchestra Foyle Future Firsts) Jonathan Stockhammer: conductor, David Moss: voice, Jocelyn B Smith: mezzo-soprano.
---

Concert: Kirolian Piano Trio
(Charmian Keay - violin, Carolyn Rosinsky - cello, Kitty Xiao - piano), playing at St Johns Church, Lansdowne Crescent, London W11 2NN, at 1pm on the 23rd February 2012. Programme: Beethoven Piano Trio in B flat major Op 97 "Archduke", and Schumann Fantasiestücke op 88.
---
Cornwallis Quartet concert on the 16th February 2012 at St Alfeges Church, Greenwich, London
(violin I - Charmian Keay, violin II - Maria Fiore Mazzarini, viola - Joe Ichinose, cello - Carolyn Rosinsky) playing Beethoven Op. 18 no. 3 at 1pm.
---
17th April 2011 – Pergolesi Stabat Mater at St Michael's Church, Mickleham. Emma Smith – soprano, Charlotte Collier – alto, Olivier Quartet – Clare Kennington (Violin 1), Charmian Keay (Violin 2), Shelagh McKail (Viola), Daniel Bull (Cello); Caroline D'Cruz – (piano).
---
Performance of Nigel Keay's Diversions for Quintet and Jonathan Besser's Three Pieces from Ecstasy Suite in a concert on 7th March 2010 with the soloists of Orchestre 2021 as part of the 2010 Paris Oboe Festival. These two works were released by blumlein records on the CD Diversions - Autour du hautbois in October 2010.
---
Monday 8th June 2009, 1pm, The Parish Church of St. Michael at the North Gate, Cornmarket Street, Oxford, OX1 3EY, United Kingdom - Mozart; Violin Concerto N°5 in A major, Bach; Concerto for Two Violins (2nd movement), Haydn; Duo for Two Violins Op.99 with Dr Guy Newbury (piano) and Joe Ichinose (violin).
---
Performance of Mozart Violin Concerto N°5 in A major (2nd movement) with the Nelson Symphony Orchestra in the Young Musicians' Concerto Concert, 20 September 2008 (conductor - Kenneth Young)
---
Sunday November 25th, 2007, 3pm, Marama Hall, Dunedin. 2007 Composer Commemoratives with Terence Dennis, Tom McGrath, Tessa Petersen, Charmian Keay, Kate Hamilton, Gregory Hamilton. Glinka: The Lark & Jota Aragonesa for two pianos. Stravinsky: Concerto for two pianos. Elgar: Piano Quintet in A minor, op. 84. Adults $20, Students $5
---
Sat 15th Nov 2008, 12pm, Hutton Theatre, Otago Musuem., Dunedin. Wolfgang Amadeus Mozart - Violin Concerto no. 5 in A major, K 219 "Turkish" (1775) Soloist: Charmian Keay, Accompanist Jaroslav Novak. Concert for the benefit of Amnesty International Aotearoa NZ
---
First performance of Nigel Keay's Variations on a Theme from At the Hawk's Well (2001) for Piano Trio on 22nd March 2007 at the Music Department of the University of Otago (NZ) with Jono Squire (cello) and Tom McGrath (piano).
---
Participation in "Projet d'Échange - Nouvelles Voix", Paris, France, December 2006. Concert by Orchestre 2021, Thursday 7 December 2006, 8.30PM
---
Fortune Theatre, Dunedin. I Love You, You're Perfect, Now Change. 19 May – 10 June, 2006
Onstage musical accompaniment provided by Stuart Walker (piano) and Charmian Keay (violin). Music performed in a variety of styles, from Broadway musical to jazz and tango.
---
Violin and Backing Vocals in recording of Waiting for the Day by Adam Usmani.