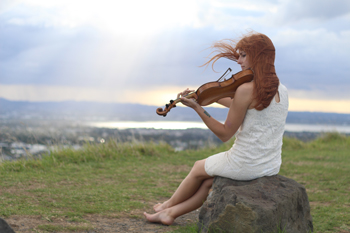 Charmian Keay is a freelance violinist based in Wellington, New Zealand. She plays with the Auckland Philharmonia Orchestra and the NZ Symphony Orchestra as a casual member, and is a first violinist in Orchestra Wellington.
Taught first by her mother Miranda Adams (Assistant Concertmaster of the Auckland Philharmonia Orchestra), other teachers included Justine Cormack (NZ Trio Founder), Kevin Lefohn (director of the Queenstown Violin Summer School) and Tessa Petersen (Concertmaster of Dunedin Symphony Orchestra).
Charmian completed her Bachelor of Music with Honours (1st Class) in Performance Violin at the University of Otago, Dunedin. After graduating she won the Elman Poole Fellowship and was offered a place in the Southbank Sinfonia, based in Waterloo, London for the year of 2009, and went on to do postgraduate studies in London as a Trinity Laban Scholar at the Trinity Laban Conservatoire of Music and Dance with Matthew Trusler, one of Britain's most acclaimed solo violinists.
European performances included a solo recital in Oxford of Mozart's Concerto No. 5 in A Major, as well as various chamber music recitals in venues such as the Royal Opera House and Wigmore Hall, and in festivals including the 2010 Paris Oboe Festival, and the Anghiari Festival, Italy.
Since returning to New Zealand in 2012, she has performed regularly as a soloist with the Blackbird Ensemble, and was first violinist for their national tour in 2019. She has led string quartets in Auckland such as Moonshine Quartet, and Korutet which toured to Paris in 2014, and is currently violinist for the newly-formed time-travelling Wellington-based string trio, Quantum Femmes.
Charmian plays on a violin made by Dimitri Atanassov, Cremona and bow by Doriane Bodart of Paris.